About us
Our apartment house has been accommodating satisfied guests for over 30 years. Our guests are always happy to spend their holidays with us and enjoy the family atmosphere. We are happy to offer our air-conditioned, well-equipped apartments with satellite TV and free WiFi. The apartments have spacious balconies or terraces, most of them with a wonderful panoramic view to the mountains and the sea. Parking spaces are available free of charge. The house has a beautiful garden with barbecue, old trees and a flower-covered terrace with a sea view - an ideal place to relax. The famous Paradise Beach is approx. 300 m away and can be easily reached in a few minutes. Just above the house is a hiking trail through nature, untouched bays and beaches with crystal clear water. In a few walking minutes you can reach several restaurants and a bakery.
We do our best to make your stay as pleasant as possible in a relaxing and friendly atmosphere. Don't hesitate to contact us in any case of need.
My passions are gardening and geology. You will find many stones and fossils in our garden, which belong to a collection that is noticed throughout Croatia and which I would be happy to explain to you if you are interested. There are also several geological trails with guided tours in Lopar, so you have the opportunity to get to know the peculiarities of the rocky world better and to experience your holiday destination from a side that most guests do not see.
Explore

- We are happy to organize various sports and leisure activities on site and advise you on hiking and cycling trails, boat rentals, excursions, cultural opportunities, the best restaurants, etc.
- Rent a boat to explore the numerous natural sand-, rock- and pebble-beaches
- Take a boat trip around the island, to the island of Mali Losinj or to the two islands Goli Otok and Grgur (former prison islands)
- You don't have a boating license yourself? You can acquire it with a course on the island
- To make your day on the beach more fun, you can rent Jet skis, banana boat rides and pedal boats
- For the brave, jumping into a little-known cave (Medova buza, bear cave) is an experience in itself. You can reach it with a pedal boat or your own boat, etc. Through a wide opening in the rock you can jump into the cave, which is flooded with sea water, from a height of approx. 3 meters and leave the cave by diving through an opening under water
- Hike on an ancient Roman path to the 400 m high Kamenjak and experience a unique flora and fauna with untouched holm oak forests, water lily ponds and geological peculiarities
- Rent a quad and explore the island off the paved roads
- Would you like to experience the underwater world? There is a diving school where you can get a diving license (Open water diver). There are trial courses, courses for beginners and advanced learners.
- Do you like fishing? Bring your own equipment. We advise you on boat rentals, licenses and fishing spots
- You can cook the fish you have caught on our barbecue in the garden
- Experience the city of Rab with its 2000 year old history, with many churches, monasteries, museums, galleries and intact Roman city walls
- Classical concerts are held regularly in summer
Accomodations Gallery
Our apartment house is located in Lopar on the island of Rab on a small hill from which you have a wonderful view of the sea and the Velebit Mountains. There are four apartments with two separate bedrooms, three small apartments with one bedroom and a kitchen and one double room with a shower / toilet.
All residential units offer
• Free WIFI
• Air conditioning (also suitable for heating)
• Balconies or terraces
• Fridge
• Fresh towels and bed linen (apartments are cleaned and bed linen changed by us once a week)
• Flat screen TV with satellite TV
• Pets are allowed
• On request we will prepare breakfast for you (in good weather in the garden, in bad
weather inside)
• A barbecue is available in the garden
• Free parking spaces
Accomodation:
Apartments with 2 bedrooms:
• Between 40 square meters to 60 square meters in size
• 4 - 5 people
• 2 bedrooms with a double bed and a desk
• Bathroom with shower / toilet / sink
• Well-equipped kitchen with dining table, kettle, coffee machine, electric stove and some
with dishwasher
• Balconies or terraces with sea views
Small apartments
• Between 20 square meters to 40 square meters
• 2 - 3 people
• 1 bedroom with a double bed and a desk
• Bathroom with shower / toilet / sink
• Well-equipped kitchen with dining table, kettle, coffee maker, electric stove
• Balcony with sea or garden view
Room
• about 15 square meters
• 1 - 2 people
• bedroom with a double bed
• Bathroom with shower / toilet / sink
• Large balcony with sea view
• Fridge
• Free cooking facilities in the garden kitchen
Our garden has several tables and seating options, hammocks, a barbecue and a beautiful terrace with a sea view that is perfect for both resting and socializing. It is a place to be happy, laugh, eat, drink, read, relax ...
Adjacent to the garden you will find a small kitchen that offers chilled beer and house wine and in which you can prepare coffee and tea. Please use the kitchens in your apartments for cooking. (Exception: guests staying in the room)
We ask you to keep the night's quiet from 11 p.m.
All
App1
App2
App3
Room 4
App5
App6
App7
Surroundings
Explore the Island Rab
- The island of Rab offers much more than a wonderful beach holiday. If you would also like to experience the island in all its diversity, you are in the right place. Every year at the end of July the old town awakens to medieval life. In the entire old town old handicrafts, music and dance performances, crossbow shooting and many culinary delicacies testify to a centuries-old tradition that is still cultivated by the local population today. For more leisure activities, follow us on Facebook and Instagram.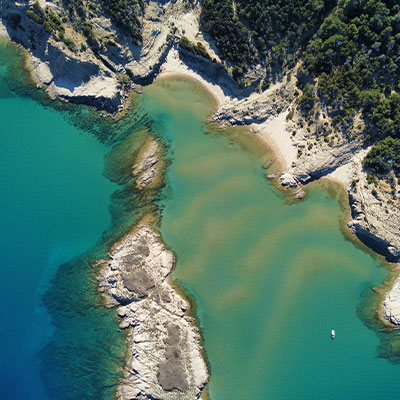 Beach
Explore some amazing beaches and trails.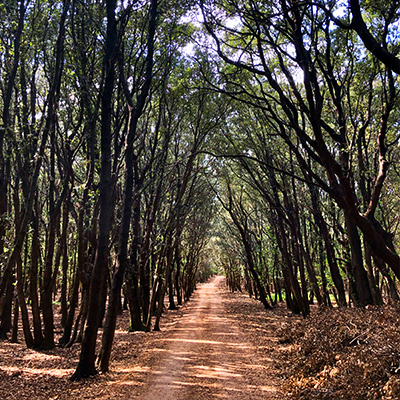 Hiking
Explore the amazing hiking trails.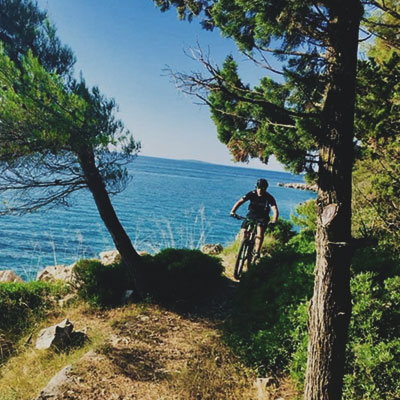 Bike riding
Explore the many bike trails.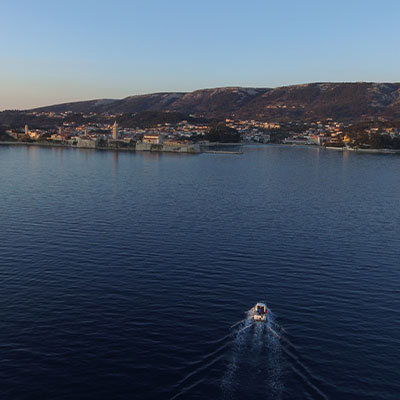 Cruise
Take a boat ride!
Tel. 00385 51 775449
Mob. 00385 99 6760575